International Confectionery Editor Kiran Grewal talks with Leo Tanis, Founder of Tanis Confectionery, about enabling end-to-end production within a single platform and the rise of active gums.
Leveraging in-depth knowledge acquired over a lengthy career in confectionery production equipment, Leo Tanis has developed a complete end-to-end solution for conducting every process in the development and manufacturing of gums and jellies. All the way from recipe to finishing, his T-Gel concept supplied through Tanis Confectionery gives manufacturers a smooth ride by cutting out the complexities of dealing with multiple equipment manufacturers. 
Now after 26 years, Tanis Confectionery complements its regular gums and jellies equipment lines with an exclusive offering for "active" confectionery (containing vitamins and other beneficial additives) via its OTC Candy arm. 
Leo started by explaining what led up to Tanis Confectionery becoming an all-round solutions provider utilising the latest technological developments and expertise provided by process, food and mechanical engineers. 
"My career in confectionery production began at a family-owned kitchen equipment manufacturer called Ter Braak. My mother's name was ter Braak and my father was one of the shareholders of the company. I joined as a student and worked there for 20 years, by which time I was the company's Technical Manager, responsible for technical sales and internal management."
Beginning a new era

When Leo eventually parted ways with Ter Braak, it was to found Tanis Confectionery, together with his brother. At the beginning, Tanis Confectionery focussed just on kitchen processing equipment, which was supplied to manufacturers right across the candy spectrum – hard candy, soft candy, chews and nougat.
Approximately eight years ago, Leo decided to reorganise the business by narrowing the focus to gums and jellies and creating a one-stop-shop, thereby offering customers in this market much greater efficiency. To this day, Tanis remains the only company in the world offering equipment for carrying out every single production process, from raw materials through to the end product. With an added bonus of recipe development thrown in.
Recognising a gap in the market 
This change in business structure was inspired by a complexity Leo had noticed in the market, whereby customers were exposed to compatibility and continuity risks due to having to source equipment from multiple suppliers. 
"Go into a pharmacy and you'll find all sorts of active gums and jellies, of which probably 80% are created using Tanis' equipment"
"Piecing together a complete production line typically means combining purchases from four or five different companies. When something goes wrong along the production line, it's hard to pinpoint the responsible party. So the customer ends up carrying all the risk, on top of the laborious task of dealing with all these different companies to begin with.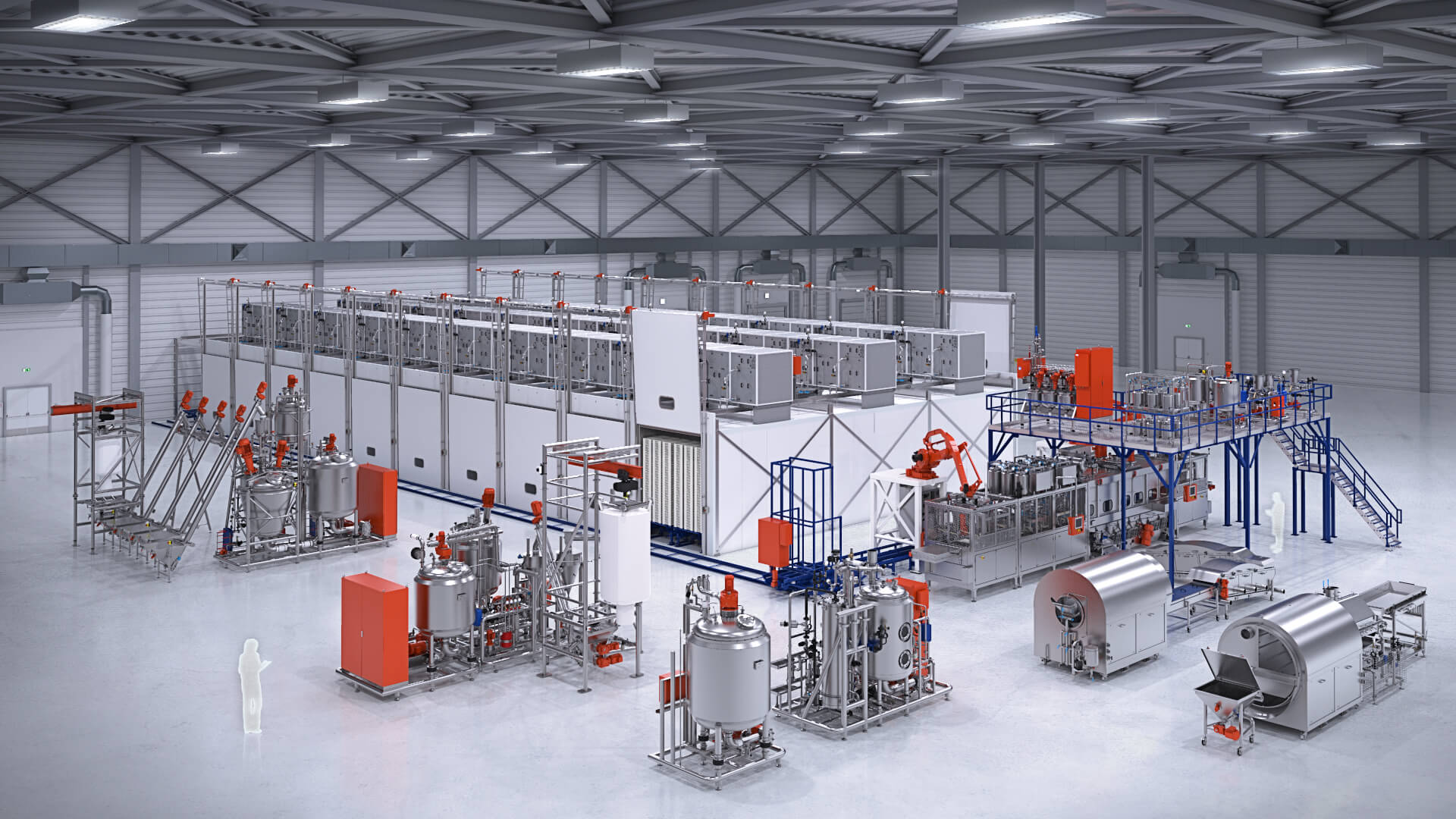 "Raw materials can be unpredictable to work with, which means a customer using equipment from a variety of different suppliers cannot accurately tell each of them what to expect. 
"During my time supplying kitchen equipment, I gained a great deal of knowledge about conditioning rooms. At some point around 15 years ago, I found myself alone in a hotel room sketching out plans for an end-to-end concept." 
Leo and his team began researching options for realising this concept. The business plan that eventually developed from those hotel room sketches led to the conception of T-Gel, Tanis Confectionery's complete solution for creating gums and jellies.
"As a Process Engineer with a background in mechanical engineering, I have always been much more interested in gums and jellies because making them is such a complex process," Leo laughs. 
Growing a business in global pandemic
Coronavirus has impacted many industries and forced people to think outside the box. For some, business has even improved. Concerns over health, and intensified awareness of wellness lifestyles have led to a greatly increased demand for gums and jellies infused with health-promoting ingredients.
"Our strongest growth area right now is 'active' gums, infused with everything from vitamins to CBD and other cannabis-derived products. I've been seeing this develop since starting my own active gummy factory 18 years ago, which means we've accumulated an enormous amount of knowledge about how to make these work. 
"Go into a pharmacy and you'll find all sorts of active gums and jellies, of which probably 80% are created using Tanis' equipment," Leo says. "This added on to the fact gums and jellies in general are in every marketplace. Every gas station, every airport, every train station – you name it."
Supporting creativity

Tanis' total concept approach puts them in an ideal position for helping customers to think creatively, and enabling them to follow through on new ideas.

"Most factories are comprised of 2/3 production personnel and 1/3 working in administration, engineering, support and sales. In my business, production only accounts for 50% of our work, as we are so highly focussed on engineering and development. In fact engineering accounts for almost 35% of the company. We are constantly thinking about new ideas, new concepts and new developments, because we want to support customer creativity and help them achieve their vision." 
"I have always been interested in gums and jellies because making them is such a complex process"
The creation of T-Gel Non-Starch is just one example of how business has been grown via its creative and developmental side. Tanis Confectionery's own development centre (TCIC) has a full team of process, food and mechanical engineers dedicated to the task. 
Room to develop
Leo feels he "took a risk, and it paid off", which now allows him more time and space to focus on the business aspects he's most passionate about and pass his knowledge and expertise on to the company's future – his children.

"These days I get to be more creative and look at the developmental side of the business to see how we can grow further. I've got my three children involved and have no doubt that Tanis Confectionery will continue to grow as a family business. I came from a family-owned company, and when you grow up in this environment this, and the opportunity to leave a legacy, becomes very important to you. 
"Each of my children are interested in different areas of the business. One is absolutely a manager and entrepreneur, he has a business education and understands how to manage and grow the company. The middle child is 100% a salesman, he likes getting out and being involved in that process. And the third is completely technically minded. So what more could I have asked for?"
Looking ahead
Leo forecasts further growth in the active ingredients sector and within health-related products. "We will also see more clean-label and a move toward natural ingredients being highlighted on labels for marketing," he says.
"My biggest advice is – if you believe it, do it! Always stand by what you believe in. Too many people let fear get in the way of their creativity, so never even start getting ideas off the ground. You just have to get out there. This is what I did, and this approach has allowed me to develop Tanis Confectionery into what it is today."
Image credits: Tanis Confectionery
To stay up to date on the latest, trends, innovations, people news and company updates within the global confectionery market please register to receive our newsletter here

Media contact
Kiran Grewal
Editor, International Confectionery
Tel: +44 (0) 1622 823 922
Email: editor@in-confectionery.com