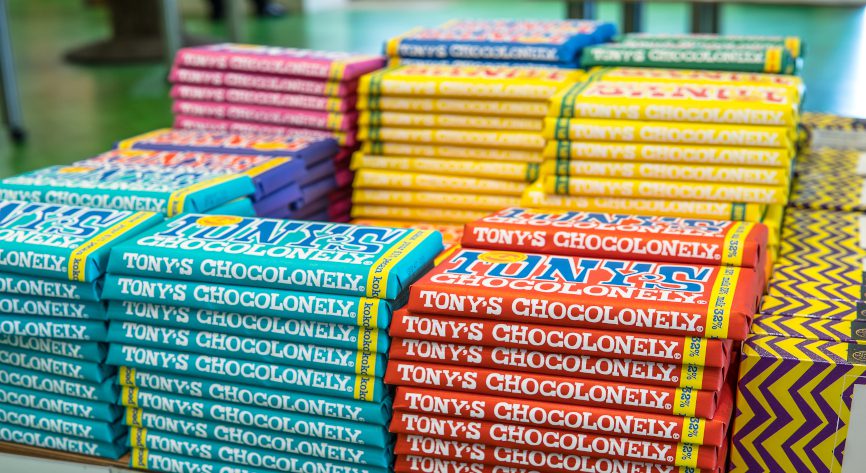 Heinemann to make global launch sustainable brand Tony's Chocolonely
Gebr Heinemann is to extend its rollout of the sustainable chocolate brand, Tony's Chocolonely, to its airport stores in Oslo, Copenhagen, Frankfurt, Hamburg, Berlin, Budapest and Vienna, as well as its global distribution network. The confectionery brand has had a successful first year of operations in Heinemann's operations at Amsterdam Schiphol Airport.
Within the last three months, the chocolate brand has partnered with Heinemann to develop 10 new products, which will be exclusive to Heinemann's operations until at least the end of the year. These include seven different 300-gram bars (Milk Caramel Sea Salt, Milk, Milk Hazelnut, Dark Almond Sea Salt, Dark Milk Pretzel Toffee, Milk Nougat, Dark) and three Tiny Tony's Pouch Packs (Mix Pack, Milk, Milk Caramel Sea Salt).
Gebr Heinemann Chief Commercial Officer Kay Spanger said: "Tony's Chocolonely sets a good example to the world that high quality, sustainability and profit can go hand in hand. The brand has found favour internationally with its responsible claim. But the fair chocolate is also a hit from a commercial point of view and we're very happy that we can offer it to travellers at our other European duty-free sites in addition to Amsterdam."
Tony's Chocolonely Chief Chocolate Officer Henk Jan Beltman commented: "In order to make all chocolate worldwide slave free, it is an absolute must to also be successful in one of [the] world's biggest channels: duty free travel retail. We're happy to have Gebr. Heinemann as our launching partner and are looking forward to take the next step with them in our mission to 100% slave-free chocolate."
The rollout of the sustainable chocolate brand is in line with Heinemann's burgeoning sustainability strategy. At the retailer's annual press conference in Hamburg, Advisory Board Member Gunnar Heinemann said: "In future, the company wants to take an even closer look at the economic, social and ecological impacts of the business."