Understanding the dynamic nature of the global bakery and snack food industry and how software technology can help deal with many challenges, even as more normal times return.
Technology in bakery systems has worked to improve the efficiency and production of baked goods, whilst aiding communication methods between customers and offer remote services during the pandemic. As trends develop in the confectionery and bakery sector, machinery must adapt to meet the needs of these changes, helping manufacturers discover more efficient ways of making products, streamline the processes, and maximise their customer's profitability. 
Reading Bakery Systems, headquartered in Robesonia, Pennsylvania, says it uses its 125 years of experience to design and engineer innovative commercial bakery equipment and help customers keep pace with the latest trends in food and snack production. 
"Our innovative spirit is on full display at the 30,000 square foot RBS Science & Innovation Centre in Sinking Spring, Pennsylvania, where we demonstrate solutions for our customers and partner with them to look for new product and equipment solutions," Travis Getz, Vice President of Operations, RBS Science & Innovation Centre, explains. 
The centre is a fully equipped with a licensed food processing research and development facility where customers can work with the team to test new machinery and processing techniques; research innovations in mixing, forming, baking and drying that can increase profitability; validate new ingredients and test ingredient changes; and produce market samples for testing.
With more and more companies investing in innovation centres, this gives customers the flexibility and freedom to test a variety of ingredients, formulations and product ideas until they reach their goal. This innovation would be impossible without the development of technological processes to allow for accurate testing and experimenting. 
Continuous mixing technology 
Exact continuous mixers come in a variety of sizes, ranging from 50 to 10,000 kg/hour. They are designed using Loss-in-Weight technology – the most accurate feeding technology available. And all metering and mixing procedures are monitored and initiated by the control system, so the operator can always confirm and modify as needed. 
RBS' most versatile mixer is the Exact Mixing MX Continuous Mixer. It offers dough production rates of 50 to 2,000 kg/hour and is our most versatile mixer. It is well suited for a wide range of products including cookies, snacks, pizza, batters, icings, and pastes. 
To make the mixing process more efficient, RBS offers Hydrobond Technology, which instantly hydrates dry materials without adding excess heat to your dough. 
The team at Reading Bakery Systems also engineers oven systems using a 3D modelling software, this analyses oven airflow, shows thermal imaging and offers other advanced tools. The oven mechanics construct these proven designs in pre-built modules for superior quality control and faster plant installation to save time and increase efficiency. 
Operating technology 
From rustic bread specialities to precisely wrapped croissants to automatically wrapped pretzels, FRITSCH offers comprehensive solutions in a wide range of performance classes. Crafted bakeries benefit from the experience that flows into the compact and flexible systems.
At the same time, FRITSCH integrates its in-depth technological knowledge and technical understanding into the development of fully automatic, highly efficient solutions. These fulfil almost every wish of industrial producers. New products and recipes are also developed together with the customer in the FRITSCH Bakery World – for bakery products with which, the company says, craft bakers and industrial customers will continue to inspire their markets in the future. 
"In the future, there will be more and more attempts to industrially produce products that used to be handmade"
There are at least two things that baked goods everywhere in the world have in common. One is the raw materials that the dough-based delicacies are made from, and the other is the bakers, who love their craft with such a strong passion. At the FRITSCH World of Bakery (WoB), that is exactly the starting point from which the company start the journey with their customers. Together, they work to combine enthusiasm for the handcraft of baking with the origins of the doughs, until the final product is perfect.  
This was also the idea behind renaming the FRITSCH Technology Centre to the World of Bakery. The new name reflects the baking "theme park" they have set up at the WoB to represent the entire value chain of a bakery from A to Z. From the ROLLFIX to the industrial production lines assembled from the FRITSCH IMPRESSA range, visitors get to experience the entire programme of lines and machines that FRITSCH has to offer. This is rounded off by professional bakery equipment for use in every size of business. 
Under optimal real-world conditions, FRITSCH unites new product trends with the technical feasibility of their lines, develop new products and convert ideas into baked goods that indulge all senses. The mission of the World of Bakery is to provide its visitors with professional and creative assistance in product development and process optimisation. Hand in hand, their customers and the FRITSCH specialists develop the best possible production processes that lead to ideal product results. 
FRITSCH promise that their dough technologists are always by your side. All of them are qualified bakers or food technologists who have deepened their knowledge through vocational training or academic study. But the best education is their many years of practical experience, their daily contact with national and international products and their contact with customers from all over the world. The team at the World of Bakery is led by Michael Gier. The baker and food technologist has been with FRITSCH since 2006 and is known among many customers as a valuable advisor. 
Michael Gier, Manager FRITSCH World of Bakery says: "Technologies are constantly being developed further in order to shape the doughs even more gently and to put even less stress on the structure during this process. In the bread sector, our FRITSCH SDS (Soft Dough Sheeter) and in the croissant sector our soft processing technology stand for these important and future-oriented developments. 
 
"Until recently, redundant work steps and incomplete information were substantial cost drivers"
"Another point is the operation of the line and the monitoring of production, which we can do with our new operating concept. This also includes cameras, with which the entire machine is equipped, so that production can be monitored even better and controlled even more efficiently. 
"In the future, there will be more and more attempts to industrially produce products that used to be handmade, and attention will be paid to personalising products more, differentiating them by product, shape or decoration. For example, our FRITSCH Product Decoration Unit (PDU) can emboss customer-specific logos or symbols in bread and roll products," Gier says. 
Efficiency and simplifying processes 
IT solutions from CSB-System have brought digitalisation to 'a new level' at the Spanish factories of international Swiss food company Bell Food Group. 
The production facilities have been brought to an entirely new efficiency level over the past few months, the company says. Until recently, redundant work steps and incomplete information were substantial cost drivers. One of the most important requirements was therefore to change from a paper-based data capture execution to a digital information flow in areas such as the processing of recipes, purchase orders, and traceability. 
"In the past, the facility did not really have an exact, comprehensive overview of the production process," explains Sven Friedli, Bell Food Group's Chief Information Officer. "For stocktaking, for example, it took weeks to count everything. Now, we have introduced an integrated supply chain solution that tracks the entire process. All information and data are available in a single system across the entire process so that stocktaking is accomplished with a mouse-click – just like checking revenues." 
"The quick availability of information in the ERP enables us to act much quicker," says Peter Ettrich, who is responsible for the CSB applications at 19 Bell factories all over Europe. In labelling, Bell Food Group has also seen rapid progress thanks to the reduction of errors. The installation of a grading system has advanced the integration of software and hardware. 
In addition, ERP has generated added value by optimising order picking, with digital information replacing paper forms. The use of hand-held devices not only accelerates processes, but also reduces errors and, consequently, necessary rework. 
Mathew Simpson, Sales UK&I at CSB-System says: "By using the latest technologies, software, hardware and people can work together more effectively. ERP systems are able to easily integrate and communicate with existing equipment on the line; 'pick by voice' and 'pick by vision' systems can direct people to the correct area of the warehouse where lamps and digits on the shelf indicate the exact position of the relevant stock. 
"Another advantage of digitisation is that integration is not restricted to the factory; indeed, the wider the connections across the entire supply chain, the greater the opportunities to improve production and respond quickly to consumer trends and changes in demand – or even the phenomenal turbulence generated by a global pandemic." 
Friedli believes that the company's IT consultants need to be proficient in two worlds – both IT itself and also food processing. "We are all in the same boat," he points out. "It is therefore important to have a common understanding of the processes in food production." 
Michael Gier, Manager FRITSCH World of Bakery says: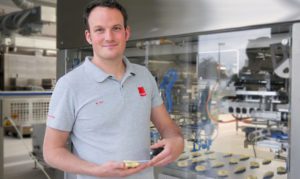 "Gentle handling of the dough and low stress on the dough during demolding, which in turn ensures that the shape and structure are retained. In addition, drop heights must be minimised to ensure gentle handling of the dough. Proper handling of the dough is one of the most important milestones on the way to perfect, delicious baked goods. 
Dough is challenging and varies greatly depending on the desired end product. In addition, the environment has a major impact on the dough and thus also plays a key role. Is the bakery a very warm or cold room? Is there high humidity? Our FRITSCH systems have the right answers to all these questions. Because during product development with our customers, our systems adapt to the end product and thus also to the customer's production conditions, not the dough to our machine. 
Even gluten-free doughs, for example, can be processed without any problems, because the plants are always adapted to the dough and the customer's requirements. 
Waste dough should be avoided during the production process. By recycling or adding residual dough or cuttings, it is possible to improve product quality for certain products, but it is important that this addition is made in a controlled manner during the process. For products where residual dough has a negative effect, there will be a patented FRITSCH solution in the future to gently shape the doughs as usual and to cut them with weight accuracy without lateral cut-off." 
Mathew Simpson, Sales UK&I at CSB-System says: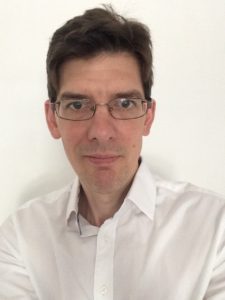 "Like all parts of the industry, the bakery sector is constantly facing new challenges that require digital solutions. The current coronavirus pandemic has highlighted several of these, most notably the huge impact on demand, with bumper orders in retail markets and crashing sales in the foodservice sector; nevertheless, even in more normal times, businesses often have to contend with issues such as supply chain pressures, labour shortages and the need for production efficiencies in competitive just-in-time markets. 
For these reasons, a comprehensive ERP system remains an essential element in helping businesses to deal successfully with both the expected and the unexpected. 
Undoubtedly the need for planning at short notice has been a feature of the past few months but such a situation is not uncommon in the food industry.  And while re-calculating raw material requirements is straightforward in principle, factors such as material lead times, line capacities and staff availability can make this planning at short notice a puzzle with many variables. 
Where different products have common ingredients and share production lines and staff, increasing one product very often reduces the potential output of another. With integrated ERP software including a good planning module, it is possible to incorporate the key productive factors – namely materials, machine time and manpower – into your plans. 
Another benefit of ERP software is that shop floor data capture can be woven into physical production so tightly that the two operations appear seamless parts of the same task and the correct practice is locked in, which helps to avoid operator errors, particularly where new recruits are involved or in areas of high staff turnover." 
Travis Getz, Vice President of Operations, RBS Science & Innovation Centre says: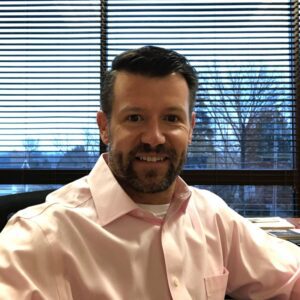 "RBS Virtual Trials provide remote access to the RBS Science & Innovation Centre's capabilities including product development, equipment testing and demonstration, and production of samples. 
With businesses still being impacted by pandemic-related restrictions, we needed an effective way to serve our customer's product innovation and development efforts. Like other RBS services that have gone virtual, the Virtual Trials actively facilitate product development remotely. Full access, multi-media content is shared in real-time, just as it would be if the customer were with us on-site, regardless of their physical location around the globe.
The benefits of virtual offerings, such as no travel costs, reduced coordination and time commitments, are especially attractive to lean, agile or startup companies. RBS is committed to innovation in everything we do, which includes making our customer service offerings more accessible. 
The RBS Virtual Trials result in a more efficient baked food product trial, by simplifying communications, operations, and approval of the products and process. During the trial, participants will communicate with the RBS team by video conference, be able to view the production floor from wide-angle cameras, capture discrete video and still images, receive reports capturing process settings, and have actual product samples shipped for analysis. 
The RBS Science & Innovation Center is currently open and available for in-person product testing as well. RBS complies with all state and local pandemic protocols for personnel safety." 
To stay up to date on the latest, trends, innovations, people news and company updates within the global confectionery market please register to receive our newsletter here
Media contact
Kiran Grewal
Editor, International Confectionery
Tel: +44 (0) 1622 823 922
Email: editor@in-confectionery.com