Buhler, Loynds and Lekos lay out their latest developments and processes in chocolate moulding lines, from pre-heating to de-moulding and cooling.
You need to process customised chocolate recipes–perfectly shaped, with maximum weight accuracy and an outstanding finish and snap. Buhler says its innovative depositing and moulding lines deliver that for all of their customers' bars, pralines, filled chocolates and hollow figures.
The challenge when working with chocolate mass lines in giving products a shape that adds aesthetic appeal to exquisite flavour. Their depositors and complete moulding solutions work with chocolate masses and fillings, with or without additional inclusions, as well as aerated masses – all on the same machine. Their Application Centre enables customers to test new ideas and allows Buhler to develop the technology that can bring them to life, time after time.
Product quality, system availability, variable throughput and proven reliability are key for cost-effective one-shot production. Buhler's ChocoMaster and ChocoMaster Compact chain moulding lines are customised to deliver bars, tablets and pralines to the highest quality, every time. 
A challenge regularly faced when making filled products is meeting increasingly stringent product quality requirements with quick changeovers and maximum reliability. Buhler says its  high-performance moulding lines are proven with even the most difficult high-viscous liquid fillings, producing exquisite quality end products. They describe themselves as the global market leader in rotating shell production. Their RotoStar solution with innovative rotation technology gives shape to even the most distinctive characters. The whole range of filled and unfilled hollow figures can be created on just a single line – with a highly scalable output.

Buhler gives its step by step process for chocolate moulding
Empty mould detection and mould pre-heating
To achieve an optimal smooth gloss without marks from air inclusions, it is essential that your moulds are pre-heated. Our pre-heated tunnels provide a temperature range you can adjust to suit your product needs, and evenly applies it for homogenous heating of every mould.

Precise quantities
For filled shapes and figures, it is essential you start with precise quantities, without too much air in your chocolate mass. Our depositing technology provides consistent depositing by weight. By shaking the moulds we ensure that unwanted air is being removed.
Precise shaping
For intricate figures, cold stamping is an innovative alternative to wet shell formation that ensures accurate weight, regular geometry and uniform wall thickness. Our patented cold stamping technology works in line with your moulds to punch out perfect shapes from a wide variety of chocolate mass.
Careful cooling
It is important to evenly cool your shell so that it retains uniform strength to hold your fillings. Our cooling tower concepts can be customised to your production, providing fast, efficient and reliable cooling in an easy-to-clean production environment.

Adding your fillings
Precision is critical when filling your shells. Whether you have semi-liquid or liquid fillings, we have a range of depositing technology that ensures accurate filling with no tail or spillage, ensuring you get a good clean deposit in each shell.

Cooling without breaking
You need to cool your fillings very carefully and evenly to ensure they retain their strength and integrity. Our controlled cooling processes give you the precise cooling profile you need for each recipe – stored in the control system for consistent results.
Preparing for depositing
Prior to bottom depositing, you need to heat your shell rims (mould surfaces). Our infrared heating unit ensures precise heating of the rim without adversely affecting the rest of your shell or the filling.

Sealing your shape
It is important that bottom depositing to close your shell is accurate to give a smooth finish and robust seal. With filled hollows we tend to use rotating roller technology rather than piston technology, which provides a precise finish.

Even finishing
After the final deposit, you need to evenly distribute a thin layer of backing chocolate. We use a two-stage process, leading with a plough scraper and following with a flat scraper that works in the opposite direction for a smooth finish.

Cooling
You need to ensure your finished product cools evenly to maintain its integrity and avoid leakages. We use multi-tier cooling towers operating at approximately 15 degrees celsius to safely bring temperatures down ready for handling or packaging.

Handling
You need to remove your chocolate articles from their moulds very carefully. Our demoulding technology uses a twist and tap motion, with pressurised air to ensure smooth removal across your moulds.


Loynds says its one shot chocolate moulding line produces chocolates to suit its customers' design. Multiple options are available including nut depositing, shell moulding, 500Kg/hr one shot moulding and 1000Kg/hr one shot moulding . Soft or solid centres can be deposited on all. Full cooling systems and automatic demoulding is on all lines.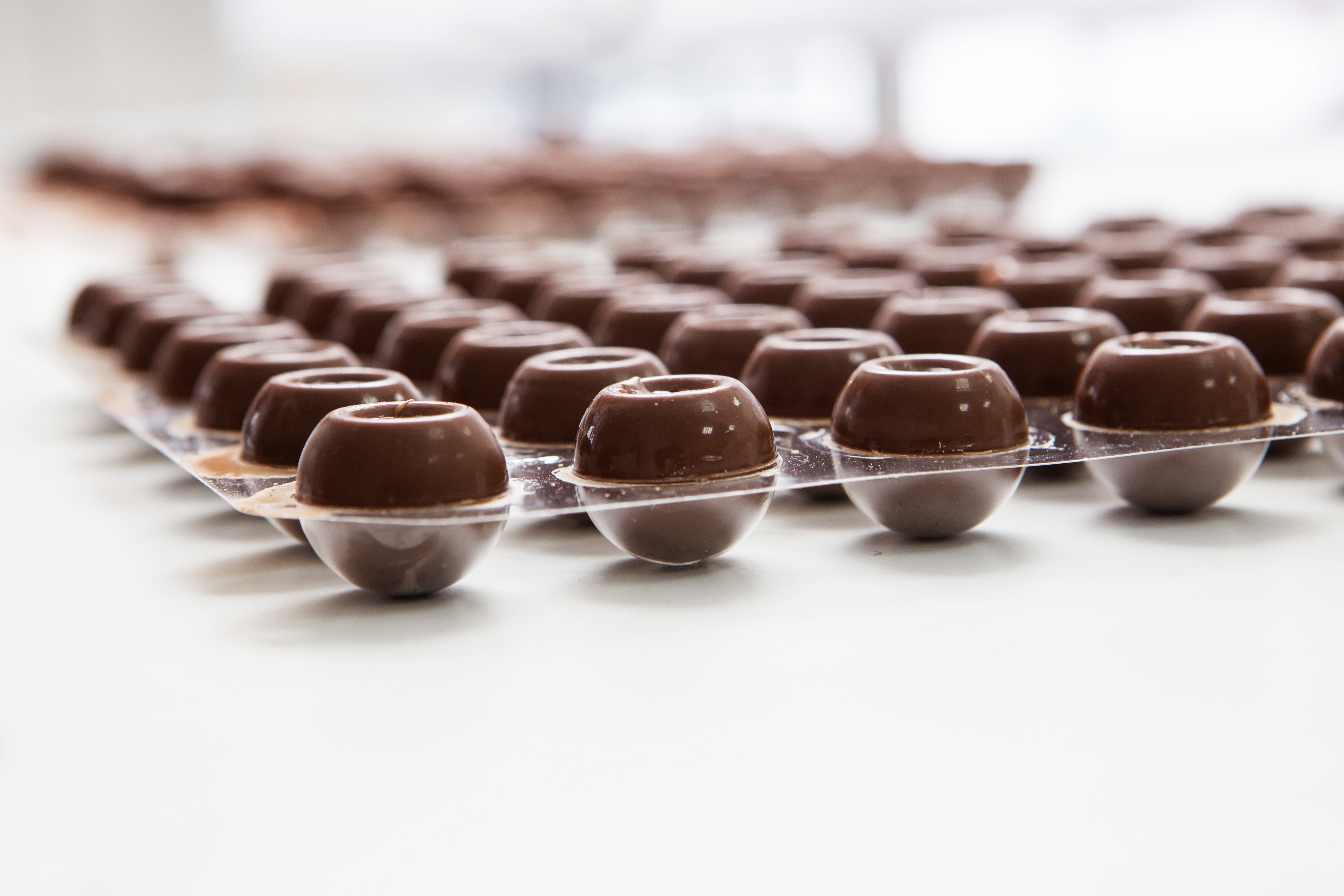 Fully modular production line
The one shot moulding machine is made up of modules which can easily and quickly be wheeled in and out of the production line. This gives maximum flexibility to the manufacturer in terms of the variety of products  and total cost of investment. Customers may want to produce a chocolate with a cream centre today in which case the standard depositor is all that is needed. Next year the customer may decide they want to deposit nut centres. If so, they just purchase the nut depositor and add it to the line. It really is that simple. The modules are all on wheels and a single operator can move the modules required in and out of position.
The options of having this type of modular set up are endless giving customers an almost unlimited range of chocolate one shot decorated products. Traditional moulding lines are typically configured in a circular circuit shape, however this line has all the return conveyors for the circuit located underneath the modules meaning the line takes up half the space of a traditional line.
The one shot production line is capable of producing centres of up to 90% volume as well as striped chocolates and solids.
The one shot moulding process from Loynds
A complete production line makes a circuit. A PLC and sensors are used to track all moulds in the circuit. The process starts with an empty mould passing through a pre-heating module. This ensures the deposit flows freely into the mould cavity. Next the mould passes through the depositing module. Here your solid or centre filled product is deposited into the mould cavity.
Next the mould is fed to the vibrating module. Vibration is applied to each mould removing air bubbles from the chocolate and ensuring the cavity is filled evenly. The filled mould is now fed to the cooling tunnel where the chocolate is set to a solid.
The mould is automatically returned to the start of the circuit by means of a return conveyor located underneath the modules.Demoulding is done at the start of the line. This is done either by vacuum or twisting depending on your product. The vacuum de-moulder can also be used to automatically place the chocolates into a box. The empty mould is now ready to be fed through the circuit again.
Traditional principles of chocolate moulding

Lekos utilises more traditional principles of moulded chocolate products manufacturing, thanks to which Lekos says its solutions are universal for manufacture of a wide spectrum of moulded goods.

Needs and requirements of individual customers are taken into account during the design process e.g. range of products, required capacity, available space for installation, possibility of line extension or implementation of new products in the future, etc. Flexibility of the company allows tailor-made design and manufacture of line for existing sets of moulds given by customers.

Lekos offers two basic types of moulding lines: Chocolate moulding line "race track" type, which is suitable for the whole portfolio of products, from plain chocolate, through filled products, up to sea shells. And Chocolate moulding line "monoblock" type which is suitable only for plain chocolate and chocolate with ingredients.

RACE TRACK – So called "race track" type of Lekos chocolate moulding line is the line, where chain conveyors transport loose moulds between individual sections along the line, where individual technological operations are executed (e.g. mould preheating, chocolate depositing, shell-forming, etc).

MONOBLOCK – So called "monoblock" type of Lekos chocolate moulding line is the line, where the chain transports moulds which are fixed to the chain in continual mode between individual sections along the line, where individual technological operations are executed. Lekos delivers this type of line only in design suitable for production of plain chocolate products and products with ingredients.

Based on the specific situation Lekos realises various projects from partial modifications of certain line sections, through complete replacements of sections according to the needs, even to a complete modernisation and reconstruction of lines.

The role of the mould exchange station is to identify non-demoulded products in moulds, which are returned from demoulding station back to the production process, and following automatic exchange of moulds on a moulding line, including change-overs.

Lekos piston depositors are suitable for dosing of a wide spectrum of masses, e.g. chocolate, fat-based fillings, water-based fillings, jelly, caramel, rework. Moreover, Lekos also manufactures piston depositors for liqueur. Characteristic products of the mass itself and properties of the product are basic factors, which influence the selection of not only type of vibrations but also required capacity and performance of the whole vibrating section.

For dosing and mixing of ingredients, Lekos offers complex solutions for dosing of required ratio of ingredients into the chocolate, their mutual mixing, mixing with chocolate, and following filling of mixture in chocolate depositor on chocolate moulding lines.

Each company has both similar and slightly different approaches to chocolate moulding, however the precision and accuracy is universal across every machine for this process. As increased demand for confectionery and better-for-you chocolate emerges, these types of lines will be integral to ensure the smooth-running and output of their customer's products.
To stay up to date on the latest, trends, innovations, people news and company updates within the global confectionery market please register to receive our newsletter here  

Media contact
Kiran Grewal
Editor, International Confectionery
Tel: +44 (0) 1622 823 922
Email: editor@in-confectionery.com