Andreas Schildknecht, Global Product Manager for Syntegon Packaging Systems speaks to International Confectionery about how Syntegon's new robotic pick-and-place platform sets new standards for food production.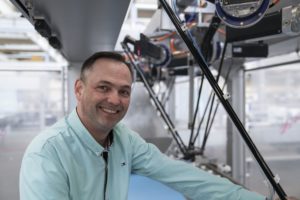 Food manufacturing is a price-sensitive industry with small margins. To remain competitive, manufacturers increasingly rely on robotic solutions including pick-and-place systems to automate critical process steps or to fully automate entire systems. With its newly developed robotic pick-and-place platform RPP, Syntegon has added a highly flexible solution to its complete system portfolio.  
Automation has been a major trend across many industries for years: from the automotive to the pharmaceutical and food industries, there is hardly any sector that does not rely on autonomous processes. The trend is virtually unstoppable, as especially during the pandemic, automation has gained further momentum due to manufacturers trying to reduce the contact between products and operators. In this context, robots have become an indispensable part of many production lines. According to the International Federation of Robotics (IFR), the number of industrial robots worldwide has more than tripled in the past decade.  
"the number of industrial robots worldwide has more than tripled in the past decade"
They are also steadily conquering new markets, not least the food industry. Here, pick-and-place robots have established themselves as a key automation solution and are the fastest-growing robotics segment with an impressive 40% market share that is likely to grow: Experts predict that the market for pick-and-place robots will triple within the next ten years. The reason for this rapid development is obvious: the integration of robotics solutions provides food manufacturers with significant competitive advantages. Especially when it comes to product handling and loading, they offer greater flexibility, hygiene and efficiency during production as well as optimal product and operator safety, to name but a few. 
Strong combination of industrial expertise, open control and robotics technology
Turnkey system solutions are a major asset in this regard. To meet current and future production requirements, however, modern robotic solutions must be developed according to the latest technological standards and a deep understanding of the specific industry needs – including primary and secondary packaging processes.  
Earlier this year, machine manufacturer Syntegon launched a new robotic solution that meets these demands. The Syntegon RPP – robotic pick-and-place platform – automates process steps such as product handling, feeding and loading. In addition to stand-alone pick-and- place systems, Syntegon integrates Delta robot technology into the existing portfolio of machines to enhance its application capabilities. In doing so, the new pick-and-place platform addresses three industry requirements at once: flexibility, efficiency and quality.  
More flexibility to keep up the pace 
In the fast-paced food industry, product cycles are becoming shorter. To remain competitive and appeal to fast changing consumer tastes, brand owners must bring an ever-new variety of products in different pack styles and sizes to market – and do so quicker than ever before. Since they must rapidly change between products and formats on the line, food manufacturers rely on solutions with highest flexibility, lowest cleaning and changeover efforts at the same time. Pick-and-place robots like Syntegon's RPP come in handy: Only few mechanical adjustments required to set-up a new format as most of the parameters are changed in the recipe by software only. 
Product or format changes merely require modifications of the end-of-arm (EoA) tool of the Delta robot. In this way, different products can be processed without extended downtimes. Equipped with the right EoA tool, RPP can handle the most fragile products such as cookies, bars or baked goods like croissants. Thanks to a special tilting module, controlled by the new 5-axis-servo-motor Delta robot flat and upright product presentations are also possible to create more pack style variety at the point of sale. In addition, less mechanical touch points between machine and product, vision-guided free-flowing processes reduce cleaning effort while improving hygiene, food-safety and product quality. 
Adjusting to changing production capacities 
As customer demand increases, another advantage of robotics solutions is proving its worth: their scalability. Thanks to its modular concept, RPP's configuration, for example, can be tailored to fit specific production requirements in small incremental steps. Manufacturers benefit from the configuration of robots within one cell, the position of the individual robots and transport modules inside the cell, as well as the specifications of the infeed and outfeed modules. In addition, several robots can be flexibly connected to increase the machine's output. No matter the final layout, RPP's open control software ensures seamless integration and communication of all components in the complete line.  
Therefore, food manufacturers can opt for a fully automated packaging line from the outset and integrate robots to automate feeding, handling and loading of their products. Alternatively, they can automate their existing lines step-by-step and delegate individual processes, especially repetitive manual tasks to robots. Particularly smaller and medium sized companies benefit from this advantage, as they can invest in automation technology without overstretching their budget.   
Higher efficiency through smart division of labour 
Besides flexibility, efficiency benefits from robotic solutions as well. Once pick-and-place robots have been integrated into the packaging line, they work fast, reliable and without interruptions. Unlike humans, they show no signs of fatigue even after many hours of repetitive work. On contrary, they are most effective when they take care of monotonous processes. Robots operate for hours and hours while never compromising on precision, even when working at high speeds. In addition, the integration of pick-and-place robots makes it possible to relieve employees of strenuous and time-consuming tasks, such as manual product infeed or carton loading. As a result, they can focus on more complex tasks such as quality monitoring, format changes and maintenance. Overall, robotic solutions improve the reliability and efficiency of packaging lines. Therefore, they are a key element when it comes to improving plannability. Robots help to keep downtimes to a minimum and support operators when scheduling product changes, maintenance and cleaning tasks.  
Manufacturers that strike the right balance between manual and automated processes will benefit the most from integrating pick-and-place robots into their production. It makes sense to rely on automated helpers where they achieve more accurate results at high speeds than their human counterparts do. Aided by vision control systems, robots reliably detect all products on the infeed. Defective products are identified immediately and will never find a way to consumers who expect best product appearance and quality.  
Higher quality with low risk of contamination  
As much as robots drive efficient production and profitable operations, they also greatly benefit another success factor in food production: quality. Integrated into the production line, they reduce the risk of contamination by minimising the number of contacts between production personnel and product. Naturally, said risk is particularly high when products are not yet protected by primary packaging. In this stage, it is vital to handle them with the utmost care, as the example of pick-and place-robots for the handling of cookies demonstrates: During the production of sandwich cookies, robots perform the capping and lift the finished sandwich cookies off the conveyor and place them in a tray. Here, products only come into contact with the vacuum gripper, which is easy to clean, making the process as hygienic as possible.  
When assembling assortments or variety packs, robots keep up with efficiency as well. First, the integrated vision system identifies the different, randomly oriented products arriving from multiple infeed belts. Second, the robots pick and place the products securely into boxes or trays according to the manufacturers' specification. In addition, the robots detect defective products during ongoing production and eject them from the line. Once such processes have been programmed, they are performed reliably without any human interference. Nevertheless, future requirements, like new products and arrangements, are easy to teach, ensuring manufacturers are able to act fast on new trends or stay ahead of competition with highly innovative products and pack styles. 
"Once pick-and-place robots have been integrated into the packaging line, they work fast, reliable and without interruptions"
To reduce the risk of contamination, the Syntegon RPP features non-hollow body stainless-steel frames. The design incorporates the latest food-safety regulations. With almost horizontal but even surfaces RPP offers great visibility, accessibility and it is easy to clean. There are no dead-spaces, where dust or product residues may build up causing cross-contamination. Unlike painted cells, stainless steel eliminates the risk of paint peeling off and becoming a source of contamination itself. In accordance with the IP65 protection standard, RPP cells are designed for upgrades like foam-and-rinse wet-cleaning. 
Towards the factory of the future 
Despite all its advantages, any robotic platform is only as good as the operator using it. When developing new robotic solutions, considering user experience principles is of great importance. The more intuitive an operator is able to run the line, manage maintenance processes and handle format changes, the less likely production errors occur. Therefore, the RPP is equipped with the Syntegon HMI 4.0. The new integrated status lights above each Delta robot indicates important information at a glance, which offers many advantages during daily operation and is ideal for fast troubleshooting.  
This interplay of machine and personnel is key: in today's highly automated production environment, the goal is to ensure that operators and robots can work together as efficiently as possible. Robots will support manufacturers and brand owners to meet the demands of a dynamic food market and to expand their competitive edge.  
Image credit: Syntegon
To stay up to date on the latest, trends, innovations, people news and company updates within the global confectionery market please register to receive our newsletter here
Media contact
Kiran Grewal
Editor, International Confectionery
Tel: +44 (0) 1622 823 922
Email: editor@in-confectionery.com