Bosch Project Manager, Josua Schwab explains how to maximise equipment in bar production, using thorough cleaning and an intelligent feeding system
Chocolate products are a real winner with consumers in the U.S., accounting for around a third of all confectionery sales on average per-year. There is, however, increasing demand among consumers for a healthier option: muesli or nut bars, or 'free from' products. This makes the bar market very attractive to manufacturers, but also highly competitive. This competition, coupled with rising prices for ingredients, such as cocoa, puts producers under significant cost pressure. It is not generally considered possible to influence commodity prices directly, so manufacturers are turning to leaner and more efficient processes to increase overall equipment effectiveness (OEE). Here, the crucial elements for success are a well-planned, continuous product flow, with safe and gentle bar handling and an efficient cleaning concept.
The average figure for OEE in the packaging machine and granulation plant sector is just 24 percent, according to survey data from the VDMA. With an optimum OEE of 100 per-cent, 63 percent are lost to availability, 11 per-cent to performance and two per-cent to quality.
A seamlessly integrated system instantly offers manufacturers significant efficiency improvements in the areas of availability and performance. A consistent product flow is given, when all system components are perfectly matched and in constant communication with one another. In addition, gentle product handling together with quality control and 3D monitoring reliably prevent product jams or downtime caused by breakages or defective bars – at all stages of the packaging process. A robust design, which uses standardised parts and uncomplicated maintenance, guarantees good availability of the system even in a multi-shift operation.
The feeding system is very important for an efficient packaging process. It represents the smart logistics, ensuring a consistent product flow throughout the entire process. The products are received directly from the manufacturing process and prepared for distribution to the packaging leg. The Bosch distribution stations are extremely precise, with a row performance that is currently unmatched in the industry. The result: gently handled, perfectly rotated, aligned and indexed bars. Products can be held briefly on waiting belts or stored temporarily on storage belts, even in gondola storage, to bridge breakdowns and to synchronise the packaging process with the overall production.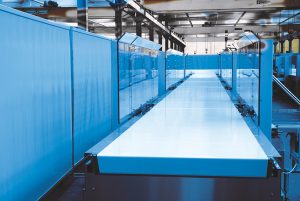 Control sensors check the length, width and height of the products while metal detectors ensure that products are free from metal objects and ejected from the packaging process. After the preparation process, the feeding system passes the products to the flow wrapper at top speed and at the correct cycle rate.
The new, intelligent transport system 'Sigpack FIT' (Feeding Intelligent Transport) from Bosch harmonises the product flow with full automation, ensuring a consistently high speed, which is additionally supported by flexible format change at the push of a button.
The hygienic design of a system directly influences the cleaning time requirement for a system. The lower the accumulation of contaminants and the easier the machines are to clean, the shorter the downtime for cleaning. Availability and quality are also linked with system hygiene. For sticky bars and/or nut products in particular, the level of contamination is very high and cleaning the plant is very important but also very time-consuming. According to the UK Food Standards Agency (FSA), the number of food recalls increased by 78 per-cent in 2015 compared to 2014. This is an unsettling development that we are looking to counter with our hygienic system design. The aim is to keep downtime for cleaning as short as possible, to prevent cross-contamination between product changes and to avoid waste. Two factors are crucial here: gentle product handling and system design.
Ideally, the transport of the product is smooth and generates little friction. This causes minimal wear to the belts and lengthens the time between cleaning. Rounded side guides reduce breakage and avoid accumulations of residues in the system, also minimising product waste. Another important factor is avoiding having stationary parts above the process belt, this ensures that the bars cannot become contaminated by dust and other residues. The operator can inspect the process at any time thanks to observation windows, transparent casings, and enhanced accessibility. In addition to using high-quality materials, such as stainless steel and FDA-compliant belt material, the ability to remove components quickly for thorough cleaning also improves OEE. Simple and quick belt changes and roller removals, together with belt scrapers, support hygienic design and reduce downtime for cleaning.
Every product – whether it's a chocolate bar or a sticky muesli bar – has its own particular cleaning requirements. For example, in the case of very sticky products, manufacturers can make use of a belt washing unit for continuous belt cleaning during the process. This reduces downtime, as intense cleaning is required less frequently. With a belt washing unit, production can take place continuously for up to 30 days with two 12-hour shifts.
If nut bars are being produced, for example, all parts that come into contact with the product, such as belts, rollers, scrapers or side guides, need to be changed completely and thoroughly cleaned. This is very time-consuming. To quickly resume to production without the risk of allergens, Bosch offers a second format set with a format parts carriage. This allows one set to be thoroughly cleaned while the second set is being used for production. In a four-leg system, four operators need just two hours to changeover the format parts and clean the entire system.