Confectioners making high-quality hard candy and lollipops have long been aware of the process advantages of depositing into solid moulds over die-forming and other methods. Depositing is now making inroads into the jelly and gummy sectors where, traditionally, starch moulds were used.
Jellies and gummies are enjoying substantial growth around the world in both the confectionery and healthcare sectors. Starchless depositing of these products not only offers substantially reduced capital and operating costs compared with starch moguls but also significantly improved hygiene.
Starchless depositing into metal or silicone rubber moulds gives confectioners the ability to expand the market with a wide range of high-quality solid, striped, layered or centre-filled products. Efficiency is high, with low labour requirements and very little waste, while depositing at final solids reduces energy costs by eliminating the need for drying.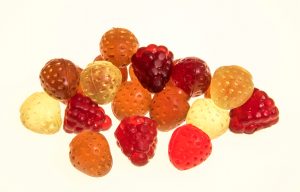 3-Dimensional jellies and gummies is a new high-value, high-margin market segment. Baker Perkins has recently introduced the first high-output, high efficiency machine for this market, with a patented mould design ensuring 100% ejection of the products.
Starchless depositing is the only way to make these complex shapes at high outputs and with low production costs. Intricate 3D shapes are not possible with a starch moulding system, which can only handle 2-dimensional jellies with a flat top or base.
3D product possibilities include balls or spheres; fruit shapes such as raspberries, strawberries and pears; animals and cartoon characters. There is obviously potential for character merchandising linked to television and films.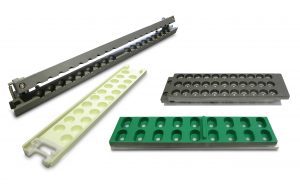 The new 3D jelly concept appeals to companies new to the market, and established producers wishing to add 3D jellies to their range. Starchless depositing system outputs range from 100 to 1,000 kg/hour, and give plenty of scope for scaling up as demand increases.
The accuracy and hygiene of modern cooking and starchless depositing techniques also make the process ideal for producing jellies and gummies with functional supplements, and this sector is expanding rapidly. Products are of consistently high quality to support high pricing and healthcare positioning.
Crucially, the depositing process adheres to the principles of GMP and is readily capable of validation to FDA/EMEA standards. The principal characteristics of depositing are central to the successful production of medicated and functional confectionery – the process does not degrade expensive active ingredients, and there is high accuracy throughout the mixing, cooking and depositing operations. Exactly the right proportions of active ingredients are added, and every deposited piece is precisely the same weight.
Functional jellies and gummies, by their nature, appeal mainly to the adult market. Jellies targeted specifically at adult markets are also being introduced, particularly in India and Asia. Jellies have traditionally been seen as a children's product, but manufacturers now take the view that the high quality and flavouring levels achievable by depositing will attract adult buyers.
Contact details
Baker Perkins Ltd
Manor Drive
Paston Parkway
Peterborough
PE4 7AP
United Kingdom
Tel:  +44 1733 283000
Email: bpltd@bakerperkins.com
Save
Save