After continued business development, the Netherland-based manufacturer of cooling and forming systems, IPCO, announces the launch of its piston depositor and expanded cooling tunnel range.
IPCO, manufacturer of cooling and forming systems for the food industry, has announced the launch of an innovative piston depositor for the production of large chocolate wafers/chips, and a new cooling tunnel aimed at the confectionery and bakery industries. 
The piston depositor in particular is a significant addition to IPCO's portfolio, and complements the company's highly successful Rotoform and chunks extrusion system. The new cooling tunnel is designed for single pass, plastic or steel belt cooling lines, and features an advanced air flow system that delivers exceptionally efficient cooling in a highly accessible and hygienic design. 
State of the art piston depositor with unique D motion 
The IPCO Piston Depositor is the company's first solution of this kind and incorporates a number of state of the art features designed to take this technology to a new level.  
In developing the unit, IPCO looked at existing products on the market and realised that an opportunity existed to significantly improve upon a process that had hardly progressed since it was first developed. Frank Laurijssen, IPCO Managing Director explains: "We identified that there was a clear and obvious gap in the market for a high technology piston depositor capable of offering optimum levels of reliability, flexibility and ease of cleaning." 
"Our Rotoform rotary drop depositor has been a byword for productivity for decades in terms of producing uniform, free-flowing chips, and we wanted to be able to offer an equally efficient solution for larger products." 
IPCO's solution is a 1500 mm wide depositor that uses a D-motion to deliver chocolate or compound directly onto a moving belt, rather than the belt-to-depositor movement commonly used on other systems. Software is used to adjust the speed and the height of the depositor and ensure that it travels at exactly the same speed as the belt.  
This precise control, combined with the D-motion, means a variable deposit can be applied without any distortion of the product, resulting in perfectly circular large – i.e. wide and/or thick – wafer products.  
Flexible system design with exchangeable components 
The unit offers a high degree of flexibility as all parts forming the end product – piston blocks, pistons and valves – can easily be replaced when a mould pitch is changed, and IPCO can supply components to meet a wide range of customer needs. Easy access to parts also means faster cleaning and less downtime between production of different products types. The unit also features twin removeable chocolate containers equipped with analogue level sensors. 
Innovative, low maintenance movement 
The movement of the IPCO Piston Depositor is managed by D-motion software and driven by four servo motors, synchronised to the speed of the belt. The depositor travels longitudinally along the belt then completes the D-shape by returning to its starting position. The design of the system means this is achieved using only rotational movements. The fact that no linear bearings are used in the unit means significantly less wear and tear, resulting in lower maintenance requirements. 
"There was a clear and obvious gap in the market for a high technology piston depositor capable of offering optimum levels of reliability, flexibility and ease of cleaning" 
All parts that come into contact with the product, including containers, pistons, blocks and valves, can be completely dismantled for easy servicing. The innovative design of the system also means that the depositor can be automatically removed from the production line onto a wheeled trolley unit for inspection, cleaning, servicing and replacement/exchange of components.  
Full integration into IPCO CCM lines or upgrade to older models 
The new piston depositor has been designed for easy installation as an add-on facility alongside existing equipment on IPCO CCM (Chip and Chunk Moulding) triple pass steel belt cooler lines. This combination of three depositing systems – piston, Rotoform and chunk extruder – on a single line delivers maximum production flexibility with easy changes between products, and the optimum process used every time. Alternatively, the piston depositor can be installed as an upgrade to older CCM lines, or as a standalone system on new lines. 
Bar moulding lines and one-shot products 
IPCO has many years' experience in the design and manufacture of chocolate forming systems and its systems are known for delivering high levels of reliability. While the technology behind the piston depositor is new to the market, it has already undergone extensive testing, including a 12 month trial in a production environment at a chocolate manufacturing facility in Belgium.  
This particular manufacturer has been using the depositor on a chocolate tablet line and the unit also has the capability to be used in the production of one-shot products.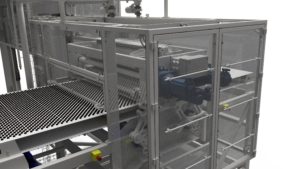 Summary of benefits of the IPCO Piston Depositor 
1500 mm wide piston depositor.

 

Suitable for large wafers, bar moulding, one-shot products.

 

Unique D-motion synchronised to belt speed.

 
Twin chocolate containers with analogue level sensors.

 

No linear movement, less wear and tear.

 

Exchangeable depositing components.

 

Full integration with CCM lines, upgrades and standalone use.

 
Energy efficient single pass cooling tunnel  
IPCO's second system launch this summer is a cooling tunnel that combines the performance and energy efficiency provided by a unique airflow system with the hygienic qualities of a highly accessible, all-stainless steel design. 
Laurijssen explains: "Throughout the development process we placed major emphasis on sustainability and energy efficiency. We also aimed to design a system that would deliver high levels of operability, accessibility and cleanability. In other words, we wanted to make a cooling tunnel that is as economical, energy efficient and user friendly as possible. And we are confident that we have achieved that goal."   
"IPCO has many years' experience in the design and manufacture of chocolate forming systems"
The system features a single pass process and can be equipped with stainless steel or plastic belts, in standard widths of 1500 mm or 2000 mm, with other sizes available. The overall length of the tunnel can be designed around specific customer needs. Other key features include belt alignment and safety systems, and the tunnel is supplied in modular form with all electrical equipment ready to be connected, enabling fast installation and commissioning.   
Unique airflow distribution 
The tunnel can be designed with direct, indirect or impingement airflows, with a bottom cooling option also available. Airflow has been designed for maximum efficiency to deliver rapid, controlled cooling and significantly lower energy consumption than comparable lines. 
Hygienic, easy to clean design 
All key components of the tunnel are manufactured in stainless steel to ensure easy cleaning and the highest standards of hygiene, and the whole line has been designed for maximum accessibility and cleanability.  
Applications across the confectionery and bakery industries 
The efficient and economical design of IPCO's new single pass cooling tunnel means it has applications in any sector of the food industry where products need to be cooled down. In the chocolate and confectionery business, this will usually be for forming or moulding processes; for the bakery industry it could be used for cooling anything from cookies and crackers to brownies, biscuits to cereal bars. 
The addition of the cooling tunnel represents a signification extension of IPCO's portfolio for the bakery industry. The company supplied the world's first steel belt for a continuously operating bake oven in 1926, and is today the world's leading suppliers of solid and perforated steel bake oven belts. 
Summary of benefits of the IPCO Single Pass Cooling Tunnel 
Unique, energy-efficient cooling air distribution.

 

Direct, indirect or impingement airflow.

 

Bottom cooling.

 

Plastic or stainless steel belts.

 

1500 mm or 2000 mm belt widths.

 
All-stainless steel design.

 

High accessibility and cleanability.

 

Modular design for rapid installation. 

 
A history of innovation in food processing systems 
IPCO is a leading supplier of chocolate forming/moulding equipment, with systems designed for the production of industrial ingredients – chips, chunks, drops and blocks – and decorative products such as shavings, rolls, pencils, blossoms and many more. 
A wide range of production components means the company can tailor systems to suit different needs, with solutions for everything from low cost, rapid deployment start-ups to high capacity multi-layer systems. These include the CCM 1500, a chip and chunk moulding line with capacities up to 3,000 kg/hour, and the TPE 1500, a space-saving triple pass plastic belt cooling tunnel. Other systems are available for flex moulding with multi-colour dosing, batch colouring and flavouring, and specialty products. 
Rotoform – high-capacity rotary drop depositor 
At the heart of all IPCO's high capacity systems is the Rotoform, a rotary drop depositor that has opened the door to new levels of productivity in chocolate chip forming.  
A pump delivers the tempered chocolate to the Rotoform system via heated piping. The Rotoform itself consists of a water-jacket stator – which is supplied with liquid chocolate or compound – and a perforated rotating shell that turns concentrically around the stator to deposit drops of chocolate onto a continuously running steel belt. A system of baffles and internal nozzles provides uniform pressure across the whole belt width, ensuring that chips are of uniform shape and size.  
The circumferential speed of
the Rotoform is synchronised
 with the speed of the belt: drops are therefore deposited without deformation. The heat of the drops is transferred to cooling air blown onto the product and also to the belt itself. A short cooling time means that very little oxygen can penetrate the product. 
Chips are free flowing for easy handling, storage and dosing. Chips of different sizes – from 50,000 to 300 pcs/kg – can be produced by simply changing the shell. 
"Rotoform is the foundation on which many of our innovative food processing solutions are built" explains Mitchell Paquaij, Global Sales and Marketing Manager at IPCO. "Like all our systems, it has evolved through a process of continuous improvement and development." 
Steel belts for cooling, forming, baking and more 
The company is also one of the world's leading manufacturers of steel belts for food processing, with applications ranging from simple conveying to cooling, forming, casting, freezing, steaming, baking and more.  
Products processed this way include caramel, chocolate, hard melt candy, nougat, nut brittle and more. In each case, the product is applied to the belt as a melt and solidified as it passes through a cooling tunnel. The heat of the melt is transferred to cooling air blown onto the product and also to the belt itself.  
Other products commonly cooled on steel belts include chewing gum base, gelatine jelly, emulsifiers and fats, all of which are usually formed into pastilles for subsequent handling and reprocessing. The qualities of a steel belt make it suitable for the production of gummy candy products and the forming of fruit-flavoured jellies into pastilles, and steel belts are also used in zoned conditioning systems for slab and casting applications such as caramel and sugar mass.  
 Image credits: IPCO
To stay up to date on the latest, trends, innovations, people news and company updates within the global confectionery market please register to receive our newsletter here
Media contact
Kiran Grewal
Editor, International Confectionery
Tel: +44 (0) 1622 823 922
Email: editor@in-confectionery.com