Interpack is back in 2017 and bigger than ever, over two thousand exhibitors will make it from across the globe to showcase the very best in the packaging industry.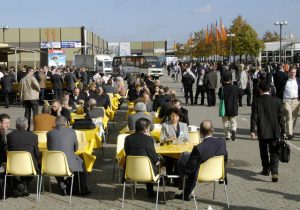 Interpack 2017 has recorded the highest demand among exhibitors in its history of over 55 years. By the official closing date of this international event for the packaging industry and related processing industries, exhibitors had booked about 20 per cent more space than was available at the exhibition centre with its 262,400 square metres in 19 halls. Around 2,700 exhibitors can therefore be expected again from 4 to 10 May 2017, coming from about 60 different countries. As before, another trade fair will be running in parallel, entitled components, special trade fair by interpack. It will feature products from supplier industries of the packaging sector. This event, too, is now fully booked, yet it will occupy more than twice as much space as in 2014, at its première.
Special topic: Industry 4.0 – in partnership with VDMA
Where size and internationalism are concerned, interpack is a unique platform for businesses offering products and solutions in packaging technology and related processes as well as packaging media and materials for the various segments of this industry: food, beverages, confectionery and baked goods, pharmaceuticals, cosmetics, non-food consumer goods and industrial goods. The products and services presented here will be supplemented by several innovative specialist areas. Working together with the German Engineering Federation (VDMA), Interpack 2017 will put the focus on Industry 4.0, in particular. The special show will take the form of a Technology Lounge at the VDMA stand, featuring examples of solutions in packaging machinery and process engineering and opening up new opportunities for applications in security, traceability, copying and counterfeit protection as well as in customised packaging.
SAVE FOOD innovationparc
As before, SAVE FOOD will play a role at interpack 2017. A special show called innovationparc (Innovation Park) will be held, with packaging ideas and solutions designed to reduce food losses and waste. They will include the winners of the international competitions for the SAVE FOOD Packaging Awards, held by the World Packaging Organisation (WPO). The prizes were awarded prior to interpack, and the winners are now set to compete with one other for the WorldStar Awards at the trade fair. The innovationparc will include a presentation forum which can be used by companies to showcase their ideas and solutions. As before, the innovationparc will be held in a high-quality marquee, situated between Halls 2 and 3.
The first day of the trade fair will also feature the third international SAVE FOOD convention, held in partnership with the UN Food and Agriculture Organisation (FAO) and the United Nations Environment Programme (UNEP).
Components trade fair now entirely in tandem with interpack
Following the première of components, special trade fair by interpack, in 2014, the general idea of this trade fair has been substantially revised for 2017. Visitors will now find it at a central location within the exhibition centre, in Hall 18, a temporary lightweight hall, approximately 5,000 square metres in size. It is situated between Halls 10 and 16, complementing interpack for its entire duration.
Hundreds of companies from the supplier industries will each have their own stands, offering products in drive, control and censor technology, industrial image processing, material handling technology and other (machine) components. Components will be freely accessible to all interpack visitors and exhibitors.