Cama Group addresses pandemic concerns and helps maintain business continuity, by bolstering digital manufacturing services with new Live FAT (Factory Acceptance Testing) programme
Thanks to its deployment of advanced contemporary automation solutions, Industry 4.0 concepts and comprehensive on- and off-machine connectivity, Cama is now able to virtualise every step of a project: from initial design concepts, through build, testing, commissioning & installation, and beyond, for ongoing maintenance and support.
Cama's new Live FAT (Factory Acceptance Testing) is the latest addition to its extensive digital-capabilities portfolio, which also encompasses pre-sales visualisation, virtual design (using augmented reality) and virtual commissioning.
"The launch of our Live FAT service comes at the perfect time," explains Daniele Bellante, CEO at Cama Group. "Someone once said that necessity is the mother of invention, and this is especially true in the current business climate. Although we have been working on the technology for some months now, its virtual, on-line approach is proving incredibly pertinent and beneficial in these times of lockdown and separation."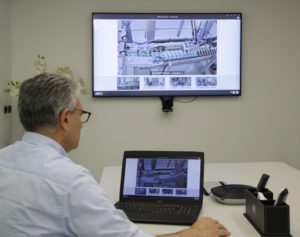 Using the Live FAT Platform, smart cameras located close to the machine's primary operational elements, give customers real-time video access to machine tests – using their own protocols and project specifications – live from Cama's premises. In addition to the comprehensive overview given by the smart cameras, customers can also access complementary cameras covering static equipment, such as electrical panels.
Sharing of the visual information and data streams is via a secure, invite-only Microsoft Teams portal, accessed using a computer, tablet, or phone. High-definition cameras coupled to dedicated visualisation software and auto lighting, ensure the clearest possible views, immaterial of the viewing platform. Customers also have the option to go full screen on particular views, to get even more detail.
"The adoption of smart on-machine technology and far deeper connectivity delivers multiple benefits for both us, as machine builders, and, of course, for our many customers, who operate in multiple industries across the globe," Daniele elaborates. "Virtualisation can be applied to so many different facets of a machine's lifecycle, and will help address multiple geographical, economical, technical and, in this instance, societal hurdles, where  customers may not currently be able to deliver test products due to quantities, shipping costs, or simply because they are overly delicate or frozen. For our customers it will be like having a highly knowledgeable Cama engineer on site… all day… every day."
For more information visit Cama website :
http://www.camagroup.com/digital-manufacturing/