Johannes Simmel , the Product Management Food & Bakery, Berndorf Band Group,  gives an insight into steel belts for the bakery and confectionery industry and provides commentary on the companies success.  
1/ What allows your belts to stand out compared to your competitors?  
As leading full-service supplier of steel belts and belt systems, we provide tailor-made solutions, which unite all requirements for the confectionery industry. Berndorf steel belts are manufactured on modern production lines using sophisticated technologies. Every single Berndorf belt is made exactly to customer requirements. Due to many years of experience, we are able to produce the belt in endless condition in very tight tolerances. The result of this production methods are perfect running characteristics, cylindricity and optimal flatness. Therefore, our steel belts need less support from belt tracking and tensioning systems. For customers this means less downtimes thanks to perfect straight running behavior and a longer belt life due to less belt damage.  
Another advantage of our high-quality steel belts is the precise cross-welding seam. This exceptional technique extends the lifetime of the steel belt by a multiple. Longer belt life, less downtimes during production, best final product quality. 
Last but not least we offer all our customers our excellent worldwide service network and our service makes the difference. Using the latest technologies and continuously developing new service equipment, we, Berndorf Band Group, ensure a long lifetime of our extensive product portfolio. Our worldwide available service hubs enable us to be as close as possible to the customers and provide them with prompt assistance, especially in urgent case like during the COVID-19 pandemic. We are always in personal contact with our customers and focus on fast and tailor-made problem solving. 
2/ Why do you recommend using belt tensioning and tracking systems? 
To increase the lifespan of the steel belt tracking problems should be monitored consistently and corrected as quickly as possible. Belt tracking systems are therefore recommended from the beginning of the implementation of the steel belt. 
From simple belt tracking rolls, which can easily be applied afterwards on any type of conveyor, to a variety of high-quality systems for tensioning and tracking adapted to the customers requirement, everything is included in Berndorf's service portfolio. With bernmatic® and berntrack® we have developed optimum solutions to increase belt tracking precision for steel belts. All our systems can also be used by woven-mesh-belt applications, if required. 
Our belt tensioning and tracking systems feature very simple and immediate installation – like plug & play. They are very reliable thanks to high-quality components which leads to a reliable belt control. Additionally, our systems take all safety levels into account, like belt run correction or safety system indication, shut down in worst case and if required. 
3/ What are the advantages of using steel belts in the industry? And how does this impact production speed and efficiency?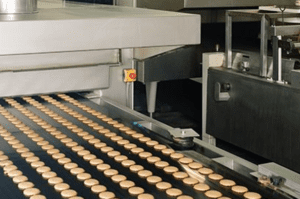 Specifically, in the baking and confectionery industry high loads and no downtimes are a must. Compared to other materials, the stability during production and the longer lifetime of a steel belt, fulfil the requirements of the industry and decrease the risks of productions stops. Easy to clean and satisfying the highest sanitary standards, Berndorf steel belts fit perfect for food applications. 
The more sophisticated the customer product is, the more demand for a production with steel belt is needed. For example, products with high fat and sugar ratio can only be produced on steel belts regarding to the product composition. Low downtimes, stable running characteristics, easy cleaning as well as a better process stability are even more advantages for the use of steel belts.  
Additionally, steel belts have less mass than other products, which need to be heated in different process steps. Therefore, less energy is used which has an environmentally impact.  
4/ How do you ensure innovation in a constantly evolving market?  
We are always in close contact with our customers to learn more about the needs and requirements of our products directly from the steel belt users. Our attention is focused on the customer needs and what development is needed to ease or improve the customer's production. 
5/ How is Berndorf Band Group production environmentally friendly?  
We at Berndorf Band Group pay attention to the use of modern production methods. Novel packaging and preservation possibilities are in the focus for us. As a matter of principle, we also pay attention to energy efficiency in our production. This means that we use renewable energy sources such as photovoltaics or hydropower. In addition, we think about the future and for this reason we pursue a zero-waste policy. 
7/ Berndorf Band Group is an incredibly large and successful company, how do you stay ahead of the curve? 
We always have our customers in mind. Their needs and demands drive us to do our best and develop further. The combination of top materials, accurate work and tailor-made solutions makes us the world's leading supplier of steel belts and belt systems for a wide range of industries. By bundling up our strengths around the globe, the Berndorf Band Group creates more efficient corporate structures and advantages for customers. Our company consists of the headquarters in Berndorf, Austria and eight subsidiaries in Asia, Europe, North and South America. As global company we have high value standards that have shaped us over the past decades. One of these is our principle, "winning together," and that we always focus on our customers. 
8/ Are Berndorf Band Group creating any more developments in the steel belts sector? 
We are constantly working on new developments in the steel belt sector. The impact of the environment plays here a big role today and the use of aggressive cleaning agents is an issue in the food industry. Therefore, we pursue to new innovations regarding such topics as these affect our customers mostly. 
To stay up to date on the latest, trends, innovations, people news and company updates within the global confectionery market please register to receive our newsletter here

Media contact
Roshini Bains,
Editor, International Confectionery
Tel: +44 (0) 1622 823 922
Email: editor@in-confectionery.com