Leading confectionery producer Cloetta's sees significant boost in speed and accuracy
The installation of an Ishida multihead weigher at leading confectionery manufacturer Cloetta's in San Pietro in Casale, Italy has increased production efficiency by over 10%, which compared to the company's previous packing operations, equates to an additional 250Kg of product packed every shift.
The Ishida CCW-RS-216B-2D was installed as part of Cloetta's transfer of the production of Finland's most famous confectionery brand Sisu from its Finnish factory. The weigher has replaced two machines, achieving speeds of up to 150 packs per minute on 32g and 70g cartons, with accuracy on the 70g pack within 0.3g of target.
The 16 head Ishida model operates in twin mode, with two sets of eight heads weighing the product simultaneously, effectively doubling output from a single weigher. A set of booster hoppers situated beneath the weigh hoppers increase the number of weighments from which the combination closest to target weight is selected, increasing accuracy further. A special rotary distribution system underneath the weigher then fills the cartons.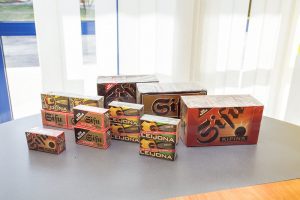 The automatic packing line is able to handle both single and double packs, which are film sealed, with single packs placed into retail-ready cartons and the double packs into boxes.
Changeovers can be carried out quickly via the weigher's remote control unit (RCU), while cleaning of the weigher – taking place every time production changes from sugar-coated to non-sugar-coated varieties – negates the need for dismantling.
Plant manager, Marco Bagato, said: "It was a natural decision to opt for the Ishida weigher as it represented the ideal balance of quality, performance and price. We needed a weigher that could combine ease of use with maximum reliability and efficiency. The Ishida has delivered on all counts."